EME55ES
The E starter can also use to the 50-60cc gas engine with same crank, mounting pattern, and prop hub. Additional mounting hole need to drill if use to DLE55RA
Electric Starter for DLE55/DA50/DA60/EME55/EME60/DLA5 Gasoline Engine Fixed Wing
No instructions included. Grease your gears after assembly. DO NOT operate without a prop.
Note Warranty is void if you do not grease your gears.


This 100A Rcexl switch can match the starter
Specification:
Total Net Weight: 540g
Working Voltage: 3-15V (12V for the best )
Motor Length: 57mm
Motor Diameter: 37.5mm
Shaft Length: 9mm
Shaft Diameter: 3.17mm
Net Weight: 205g
Available Color: red and blue (sent randomly)
Recommended ESC: 60A (need to buy separately)
Application: suitable for DLE55, EME55, EME55-II, EME60 engines
Two Long Installation Screws for mounting EME55, EME60 engines, Two Short Installation Screws for mounting DL55, DLE55, DA50, DA60 engines
Kindly Remark: When mounting and testing the starter, teeth of gear must be clenched properly and solid oil lubrication should be coated on the surface, otherwise the gear will be abraded soon.
Features: Only need a bit refitting by users, the starter also can be used for DLA56, DA50, DA60 gas engine, those users who are well in refitting can have a try.
The starter is equipped with single bearing, so power only transfers from the motor to engine. But after the engine started, the power would not pass to motor, so as to protect the motor.
Equipped with high speed 550A carbon brush motor and cooling fan.
Recommended Electric Switch (Item No.: EME-S-12):
Coming with protection equipment, when the voltage and current exceed the specified value, the electric starter will automatically open and close
Acting as a brushed ESC and using radio controller to control the electric starter, so users no need to purchase another ESC SUITABLE FOR AIRPLANES.




Install Sketch map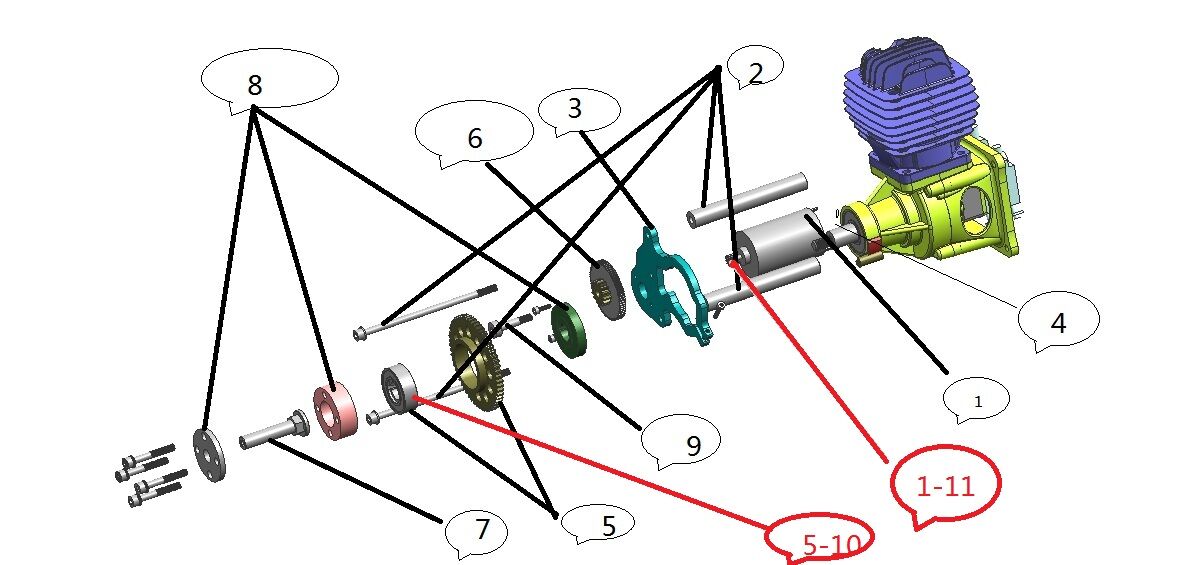 1. Brushed motor (including gear) (Product number: EME35-S-1)
2. Foot post + screw (Product number: EME35-S-2)
3. Fixing plate (Product number: EME35-S-3)
2 color: blue, red (randomly sent)
5. Large gear sleeve (including deep or shallow bearings) (Product number: EME35-S-5-A, EME35-S-5-B)
6. Double gear (double gear) (Product number: EME35-S-6)
7. Output shaft (Product number: EME35-S-7)
8. Front, middle and rear propeller pads (Product number: EME35-S-8)
9. Double gear fixing bolts (Product number: EME35-S-9)
10. Bearing (Product number: EME35-S-10)